Engineer Eats Efficiently
I like to cook, and I like it even more when I can eat efficiently and cheaply! I'm sharing some of my best tips for shopping, cooking, and preserving food efficiently, as well as dropping the occasional food science!
I often constrain myself to eating for less than $2.50 per day, and this page contains some of my favorite foods and techniques for making incredibly delicious but inexpensive food.
I started this blog before the pandemic, but have updated some parts based on what I've learned from making food during the pandemic. Many people are food-weary from having to plan trips to the grocery store less often and having to plan and cook more and not being able to just go grab the items they need. I definitely understand this. I used to go to the grocery store once or twice a week. It was my happy place. I like to leisurely look at everything and find good deals and get what is on sale that week, and find new ideas. During the pandemic, going to the grocery store is a military operation in which I have to mask- and glove-up and plan my exact shopping strategy by aisle, knowing if I forget something, I won't be back for 30 or 40 days. One time I forgot to get eggs and I was heartbroken when I got home and realized it. It's so much harder. I get it.
Table of Contents
I love food and I love to cook. I love to study the science of cooking. I'm very lucky—I'm not in a position that I have to strongly limit my food expenses, but I have always enjoyed finding ways of making delicious food inexpensively, and to turn cheap ingredients into something wonderful.
This blog is my attempt to share some of the things I've tried and learned, including cooking techniques, the science of cooking, how to reduce food costs, and how to make use of inexpensive ingredients.
You may have seen my former blog, Engineer Eats Efficiently (on $2.50 a day). For many years during Lent, I have attempted to eat for no more than $2.50 a day. One year, I wrote up each day's meals and many recipes on that blog, but I haven't written up other years (often because I make a lot of the same foods as I made that year.) Go read it, especially the Conclusions section.
Since I wrote up that blog, I have tried new recipes that I love, learned new techniques that I'd like to share, and found ways to save money while shopping. I missed writing about great inexpensive meals that I've made, and wanted to start again in a different format.
It has become a year-round pattern for me to try and eat inexpensively. When certain food products are on deep sales, I try to find ways of cooking with them or preserving them.
I have to admit that this year's cooking has been some of the best and cheapest that I've ever done. My meals have been delicious and I've been eating very well indeed. I wanted to share some of that excitement I get from making a really delicious meal that just happens to be amazingly inexpensive!
For many years, I've scoured grocery stores to find the most inexpensive meat. I've tried cheap bologna, strange packs of Salisbury steaks, organ meats, hot dogs made of various meats ground together, and many other things. Consistently, though, the cheapest meat is one of the very best and most versatile and easiest to obtain: chicken thighs!
About every other week, my local supermarkets will have chicken thighs on deep discount ($0.97 dollars / pound is quite typical!) When you see these prices, buy some chicken thighs and freeze them! (I always make sure to separate them into packs of 4 or 5 thighs so they don't all freeze together into one big lump.)
Chicken thighs are mostly meat. There's one little bone in them. In my tests, the bone makes up about 4.8% of the weight of the thigh. Compare this to a drumstick, which has about 14% of its weight in its much larger bone.
Chicken thighs are moist, meaty, and cook up well. The benefit of cooking with only one part of the chicken is that everything cooks at the same rate. And thighs are the best part of the chicken!
One of the most life-changing dishes I learned to make when eating on $2.50 a day was HOT CHICKEN! If you aren't afraid of making fried chicken, try this!
I'm going to give you a recipe for cooking chicken thighs. And it's more than just a recipe. It's now my favorite technique for cooking chicken dishes! It's nearly foolproof. It produces its own rich broth!
This is an inexpensive and delicious chicken curry, which can be made with various curry pastes, like Massaman (a delicious garlicky curry) or Panang (a wonderfully spiced red curry) paste, yellow (Karee) curry, green curry, red curry, Japanese "Golden Curry" (which is relatively easy to find in most supermarkets), your favorite curry powder (which can be really inexpensive), tikka masala powder, garam masala powder, or paprika for a Hungarian paprikash!
It can be cooked in one large pot with a heavy lid. It uses the most inexpensive (and one of the best) meats I know of, chicken thighs, making it very economical. You can substitute boneless, skinless thighs for an even easier dish.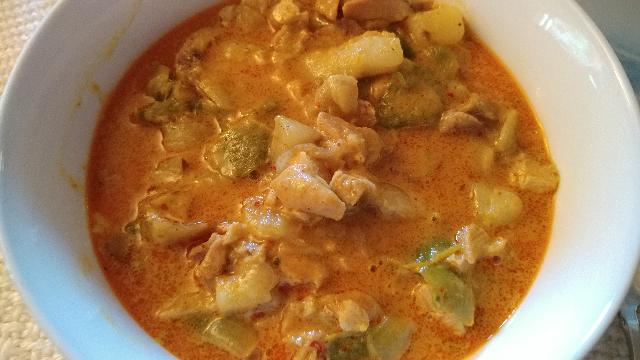 A finished huge bowl of yellow curry made with Maesri yellow (Karee) curry paste. Oh boy, it was good.
This recipe is as much about the procedure as the recipe itself. This is now one of my favorite ways to cook chicken! You may be surprised that you don't add liquid when cooking, but the onions and peppers and chicken create their own rich sauce. You will be surprised how much liquid appears in the pot! Try this method for chicken chili, Chinese foods, Indian chicken dishes like tikka masala, chicken and dumplings, and more! Your grocery store probably sells a variety of fun and delicious "simmering sauces" you can use with this technique, too.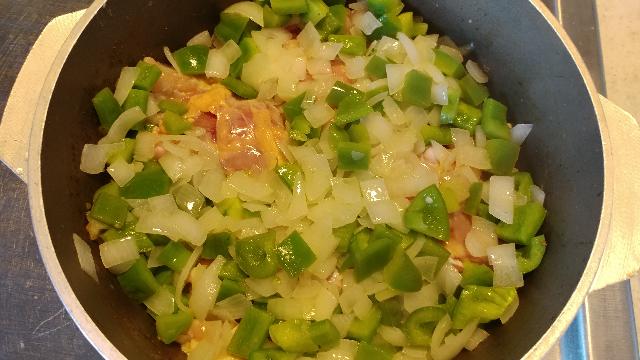 Chicken, onions and peppers before cooking. Notice that there's no liquid added.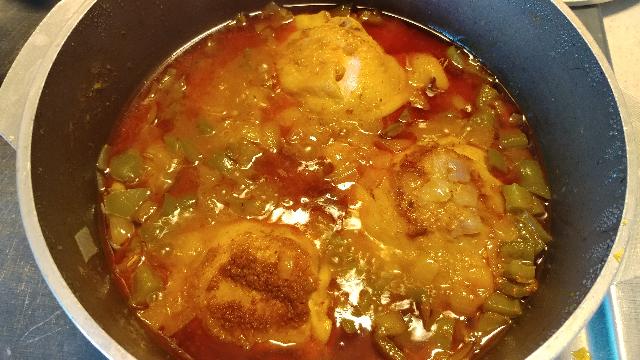 After cooking. Look how much liquid was created! All of that somehow came from the chicken and the peppers and onions!
I love the little cans of curry pastes made by Maesri (a Thai brand.) You can find these at Asian markets (and please, visit your Asian markets) or order them online. Your local grocery store may carry other kinds of curry pastes, or you can add dry spices, or a bunch of paprika to make a chicken paprikash! The Maesri brand Masaman, Panang, and Karee (yellow) are excellent. The only one I was ambivalent about was their green curry. These 4 oz (114 g) cans are economical and a perfect size for making a batch of this curry with no waste.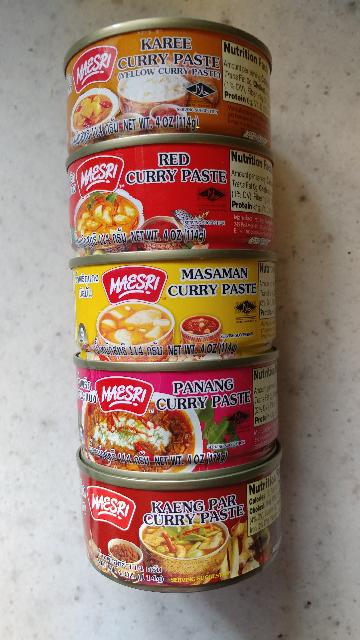 Various cans of Maesri curry pastes. I personally vouch for the Masaman, Panang, and Karee (yellow) pastes. They are excellent. I have not tried the Red or the Kaeng Par, nor their Sour Curry. Maesri actually sells 15 types of these little cans!
I bought a bunch of little cans of these curry pastes and cans of coconut milk and coconut cream and put them in all my relatives' Christmas stockings along with the recipe for this curry! That's a great gift idea! I love it that much!
If you know someone that doesn't like spicy food at all, I recommend the Masaman (also spelled Massaman). It's delicious. Did you know that CNN ranked Massaman curry as being the #1 most delicious dish in the world in a sketchy article?
(Some other brands have big tubs of curry paste that may go to waste. Some brands are screamingly hot. I once made a green curry with another brand of green curry paste (which shall go nameless because you may love it) and it was so hot that even I couldn't eat much of it. It was almost inedible. And I love hot things. I ended up diluting it with multiple cans of coconut milk.)
Cooking the chicken thighs, onions, and peppers in a covered pot, low and slow, creates its own rich broth. Using bone-in, skin-on chicken adds even more flavor. The combination of coconut milk and limes is a delicious flavor combination! Don't forget the limes or lime juice!
You might have to adjust the stove temperature to fit your stove. You start with medium-high heat to brown the chicken skin, then turn the stove to low and cook the chicken gently for 45 minutes. On my stove, you set the burner to the lowest setting. Your burner may vary.
Ingredients
5 bone-in chicken thighs
2 onions
1 or 2 bell peppers
Butter or oil for frying
1 can (about 14 oz.) coconut milk or, better yet, coconut cream!
1 (4-oz) can Maesri brand Massaman or Panang curry (or curry of your choice, see above)
Limes, cut into wedges or a bottle of lime juice (which is inexpensive!)
Optional ingredients:

Cooked rice
Boiled potatoes (these extend the meal. First boil the potatoes in a little bouillon powder, and season them with a splash of vinegar. Add the boiled potatoes to the curry at the very end.) About 3-4 medium potatoes (1.5 to 2 pounds) really extends this meal. Use only 4 chicken thighs for a really cost-effective meal!
Palm sugar (this is typical in many Thai curries. It comes as a brick in your Asian market. I literally use a hammer and chisel to break off parts, but it's delicious and adds richness to the dish.)
Fish Sauce
Cornstarch for thickening. It's amazing that this procedure creates so much liquid that you might have to thicken it, but to get a good thick curry, you may need this. See below for the procedure.
Bouillon powder (boil your potatoes in it and add it to the broth!)
Chopped peanuts or cashews
Chili Oil
Naan
Procedure
Cut the onions and bell peppers into bite-sized pieces.
In a heavy pot or dutch oven with a heavy lid, heat oil or butter over medium-high heat.
Fry the onions and peppers in the pot until just softened (they will cook more later.)
Nestle the chicken thighs, skin-side-down, among the peppers and onions, into the bottom of the pan. This will brown the skin and create more flavors.
Cover the pan and lower the temperature to a low setting (on my stove, to the lowest possible setting, but your stove may differ.)
Cook for about 25 minutes. Don't peek during this time! Remove the lid and stir in 1 can of curry paste. Flip the chicken thighs. They should have produced a lot of liquid!
Replace the lid and cook for 20 more minutes.
Remove the chicken thighs and remove the skin and bones. Chop the thigh meat into bite-sized pieces and return the meat and juices to the pot.
(Optional) Bake the chicken skins on parchment or foil in a 325 F oven until crispy and delicious!
Stir in the can of coconut milk or coconut cream. Warm about 5 minutes.
(Optional) If desired, thicken the broth with cornstarch. Stir cornstarch into cold water, then add to the pot. This will keep the cornstarch from clumping. If you add cornstarch to hot liquid, it can form clumps.
(Optional) Add boiled potatoes, or chopped peanuts or cashews.
Salt to taste
Serve with lime wedges, possibly over cooked rice.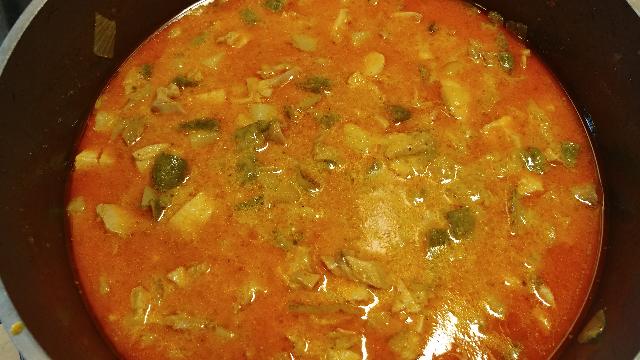 A completed pot of chicken curry, with chicken chopped, boiled potatoes added, and thickened with a bit of cornstarch.
The entire batch of curry and 2.25 cups of rice cost $9.95 and made 8 big meals! That's a cost of $1.24 per giant bowl!
Thoughts
Chicken thighs are the cheapest meat I know of. My local grocery stores usually have them on sale for $0.97 / pound about every other week. Boneless and skinless thighs are more convenient but usually cost 2 to 3 times as much. I have found that cooking the chicken on the bone with the skin gives a moister final product.
Make sure the chicken skin is dry before putting them in the pot. This will give more browning.
A little bit of baking soda on the chicken skins will aid in browning.
The potatoes helped stretch the meal significantly. And I realized that some boiled potatoes seasoned with a splash of vinegar are simple and delicious! I'm going to have to make more of them.
When talking about limes vs. a bottle of lime juice (which is inexpensive!), I remembered a story that my mom told me. When my dad was in the Army, she sent him a care package that included one of those little lemon-shaped plastic squirters of lemon juice that you can get in the produce aisle. He said that was one of his favorite things he ever received! A little squirt of lemon juice was refreshing and delicious and it made him feel better. Send your friends or food banks those little squirters of lemon or lime juice! Put them in Christmas stockings! They can add so much to a meal!
This curry recipe is really good. This curry recipe with a squirt of lime juice is incredible. Do not forget the lime juice.
Coconut milk and lime is one of the most incredible taste combinations you'll ever experience. I will hopefully make tom kha gai someday and write about it here. It changed my life.
The combination of coconut milk and lots of lime juice is incredible. If you're ever in a cooking competition, do coconut milk plus lots of lime juice. Maybe a bit of fish sauce. Seriously. You will win. Most western palates have not had this combination and it's miraculous to them.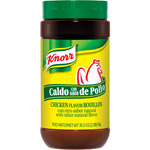 By the way, a good way to buy spices more inexpensively is to go to what Walmart calls the "Hispanic Foods" aisle. This is especially true for bouillon powder. Walmart sells a giant jug that they call "Knorr Hispanic Chicken Granulated Bouillon, 35.3 oz" for $4.98. That is 2.2 pounds (1 kg), which is a lot. This is a fraction of the cost of bouillon in the spice aisle. I use this in a lot of recipes, and it lasts me many months. Boiling potatoes with some bouillon powder adds a lot of flavor. I consider this one of my secret weapons. Boiling potatoes? Bouillon powder. Cooking bok choy or cabbage or cauliflower? Bouillon powder. Making a stew? Bouillon powder. Making a barbecue rub? Add bouillon powder. Fish Chowder? Cook the potatoes with some bouillon powder.
Bouillon powder can be the basis of a good and inexpensive barbecue rub. (Have you seen how expensive it is to buy a little bottle of barbecue rub that probably won't even cover your meat?) Start with about 3 parts brown sugar and 1 part bouillon powder. Then add every spice that you like from your spice drawer. Especially garlic powder, onion powder, cumin, paprika, black pepper, and a dash of red pepper. I usually make a big batch of rub and have it on hand for future recipes. I even gave big jars of it as Christmas gifts! It enhances soup stocks, makes a stew delicious, is great for cooking vegetables, is great sprinkled over meat or potatoes, and even improves cheap ramen.
I give these big jars of bouillon powder as gifts. You should too! Send them to food banks! They are miraculous and cheap and add so much to recipes.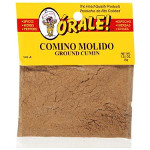 The "Hispanic Foods" aisle of your grocery store may also contain other spices much cheaper. I usually get cumin, chili powders, and other spices in this aisle, usually under the "Órale!" brand. These spices come in bags instead of jars, and cost about 1/3 what they do a couple aisles away.

Another great place to buy inexpensive spices in bulk is Indian markets. These often have big bags of spices like cardamom, cumin, coriander, cinnamon, mustard seeds, sesame seeds, and a wide variety of chili powders for drastically lower prices than you can find them elsewhere.
Preserving perishable vegetables is a time-honored skill around the world. One of the easiest and most delicious way of preserving is fermentation. Fermentation is a natural process by which you allow naturally-occuring bacteria, or yeast, or other microorganisms like koji (a filamentous fungus or mold which makes delicious things like soy sauce or sake) to alter and preserve your food.
In Korea, preserving cabbage for the winter has been an annual affair for centuries. It was not uncommon for a household to preserve 200 heads of cabbage every year, making delicious kimchi! The excellent cooking show Kimchi Chronicles claimed that most Korean people eat some kimchi with every meal! It's nutritious, preserves vegetables for a long time, even at room temperature, and is a natural probiotic, full of helpful bacteria that aid in digestion! And it's delicious and refreshing!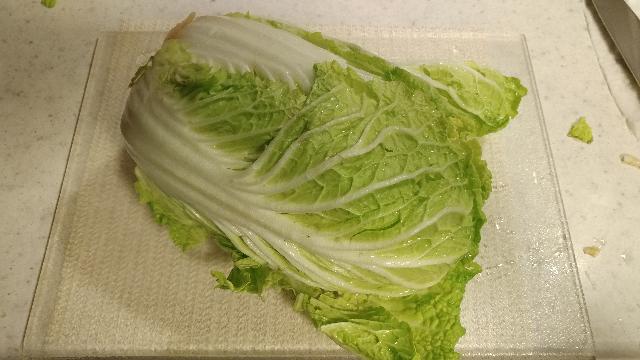 (I just made myself hungry and went and got a bowl of cold, crisp kimchi from my refrigerator. It's so refreshing and delicious!)
Kimchi varies from the very simple to the complex, from mild and refreshing to extremely sour, from crisp and light to leathery, from soaking in a salty brine to being almost dry, from unspiced to fiery hot. The process can range from simple to extremely labor-intensive.
My process for making kimchi has gotten simpler over the years. Many recipes call for multiple stages of salting and rinsing, and lots of ingredients. I'm going to share my very simple recipe and process for making a crisp, refreshing kimchi.
The process of fermenting kimchi can be surprisingly simple. You need Napa Cabbage, salt, spices, a large bowl, some jars, and, ideally, a kitchen scale. Nature does most of the work for you.
Kimchi fermentation happens almost magically. Lactic acid bacteria (often abbreviated LAB) that occur naturally on the cabbage and in the air will almost always start the fermentation for you naturally! All you have to do is provide the cabbage, the salt, and appropriate conditions.
Many processes for making kimchi require salting the kimchi to a high level (like 11% salt), waiting for a few days, rinsing the kimchi, and then salting again to a lower level. While this may make good styles of kimchi, it becomes impossible to know what amount of salt is going to be in the remaining product, and it requires more work. My process uses the right amount of salt the first time, for repeatable and measurable results.
Studies have shown that lactic acid bacteria tend to grow best at a salt concentration of 2.7% by mass. I usually shoot for 3% salt by mass as I find that very tasty. In fact, a group of Korean researchers found that "tests show that the best taste is attained after 3 days of fermentation at 20 °C (68 °F) with 3 percent salt."
The most foolproof way to make this is to have a kitchen scale. You will weigh the Napa cabbage, weigh out salt, weigh the water you add, and weigh some more salt. Again, I shoot for 3% salt by mass: the salt is 3% of the mass of the cabbage and the water you add.
Ingredients
At least one head of Napa cabbage (also called Chinese cabbage)
Salt (ordinary table salt is fine and cheaper.)
Spices These are up to you, but almost all Kimchi has chili flakes. You can also make "white kimchi" or "water kimchi" without chili flakes. It's good too! Sometimes you'll hear people say it's harder to make good white kimchi, but it really isn't at all.

Chili flakes. The most common spice is Korean chili flakes known as "gochugaru" (고춧가루) in Korean. These may be hard to find, but you can find a jar of these under the "Mother In Law's" brand at Whole Foods. They have a fruity aroma and a slightly smoky taste. A 3.25 oz jar is somewhat expensive at about $5-6, but it will last through 6-8 batches of kimchi. A Korean market might have an huge bag for a much lower price.
If you can't find gochugaru flakes, try your favorite chili powder! For years, I made kimchi with various chili powders I had on hand. Or a big bag of "Reshampatti Chili Powder" that I got from an Indian market. This was very inexpensive. Or, you can use the type of chili flakes that you put on pizza and run them through a food processor to make a fine powder.
Optional: black pepper
Optional: cumin
Optional: garlic powder
Optional: celery seed
Optional: ginger
Procedure
Weigh the cabbage. Write down its weight. You will need to know it later.
Remove the core and chop the cabbage into bite-sized pieces. (Many kimchi recipes use whole leaves, which are beautiful. You can do that too.)
Rinse the cabbage in cold water. Drain. Place the cabbage into a very large bowl.


Some beautiful Napa cabbage before salting. Note how full it fills that giant bowl.

Multiply the cabbage weight by 0.03 (that is, 3%). That is how much salt you will need. For example, if your cabbage weighs 52 oz, you will need about 1.56 oz of salt. For reference, 1 teaspoon of table salt weighs about 0.21 ounces (about 6.0 grams) so you would need about 7.4 teaspoons.
Weigh out that amount of salt. (We will salt more later!)
Gradually shake that salt over the cabbage and gently knead it into the cabbage (your hands are the best implement for this.) You don't want to really crush the cabbage, but knead it hard enough so that the salt will just begin to break down the cell walls and soften the cabbage, and get salt into it to preserve it.
After about 5 minutes of kneading, the cabbage will have shrunk significantly and released a lot of water! This means you're getting salt into the cabbage. Leave the salty water.
Taste it! Pretty good, no?
Press the cabbage and water into the bottom of the bowl.
Measure 2 cups of cold water into a measuring cup. Slowly pour some of the water over the cabbage until it is just barely covered. Keep pressing the cabbage down. You do not need to use all the water, and probably shouldn't. You will want to know how much water you used!


A zoomed-in version of the cabbge pressed into the bottom of the bowl and barely covered with water. This is probably what yours should look like.

Record how much water you used. If you used all 2 cups, this would of course be 16 fluid ounces. And since 16 fluid ounces (that's a volume) of water weighs 16 ounces (that's a mass), it's easy to calculate. We are going to salt again! After all, if we want the final cabbage plus brine to end up at 3% salt by mass, we have to account for the mass of water we just added.
Multiply the mass of the water you added by 3% (that's 0.03) again. For example, if you used all 16 ounces of water, this would be 0.48 ounces of salt.
Measure out that amount of salt and add it to the cabbage. Stir.
Taste it! It's good!
Weigh down the cabbage with a heavy plate so it's mostly underwater.
Loosely cover the bowl with plastic wrap or similar. It's good for air to get in. Your local lactic acid bacteria will help start the fermentation.
Wait 24 hours. This will let fermentation begin.
After 24 hours, remove the plastic wrap and the plate. Stir in the chili powder. The chili powder will start turning the brine orange. When it looks right, it tastes right. A pale orange will be milder than a bright orange. It's typical to use about a half ounce of gochugaru flakes for a mild kimchi. Taste it!
Stir in any other spices.
Pack the kimchi and liquid tightly into jars. Place lids on jars (allowing some air to escape is good. I've never had kimchi explode, but it will produce a lot of carbon dioxide gas as it starts to ferment. This will pressurize the jar.)


What lightly-spiced Kimchi should look like. The little jar has a whole dried Bhut Jolokia ghost pepper in it! That is one of the hottest peppers ever known, and is over 1 million Scoville units. I am afraid of it.

Place the jars at room temperature in a place that it won't get hit by the sun.
Wait about 3 days up to 7 days. When fermentation has started, you will notice that bubbles form between the leaves. It's fine to open the jar, and with a clean utensil, taste the kimchi! Its flavor will evolve over this time. Taste it every day! It's good! You may need to open the jar and press down because the bubbles will tend to "float" the kimchi out of the water.
When the taste is good, (say, 3 days) you can seal the lid more tightly and move the kimchi to the refrigerator. This will preserve it even longer, or you can leave it at room temperature for a longer time for sourer, more interesting flavors.
Keep tasting it! Its flavor will evolve over days, weeks, months, and years. Kimchi will keep for years in your refrigerator.
Thoughts
Some recipes will start the fermentation with some liquid from a previous batch of kimchi, or fish sauce, or anchovy sauce, or by putting in some rice flour or wheat flour (which has bacteria on it.)
You'll notice that we didn't do anything to inoculate the kimchi with "starter bacteria" or anything. I've never had a batch not ferment within about 3 days. It's fun to see each batch take on a life of its own (literally) just from bacteria on itself or from the air.
This is a very simple recipe, stripped to its fundamentals. You may say "but my favorite kimchi has all these other ingredients!" There are a stunning variety of types of kimchi, but my intent is to show you how easily and cheaply and repeatably you can make a simple and delicious kimchi, using only cabbage, salt, water, and spices you may have on hand.
It's not usually discussed in kimchi recipes, but there seem to be two different types of kimchi. Some are fermented underwater in a liquid brine, and others are fermented almost dry. This recipe keeps the kimchi in a liquid brine, at all times, maintaining a crisp texture. The dry method makes a more leathery final product.
Buying probiotic supplements in a store can be very expensive. Kimchi serves as a natural probiotic, with live bacteria!
If you want to know more about fermenting foods, I recommend The Art of Fermentation by Sandor Ellix Katz. His book is interesting and different than my treatment here. His overall message throughout the book is that fermentation will work under a huge variety of conditions, and it's generally safe. There are no recipes in the book. His message seems to be that "most things you try will just work." I'm trying to give you a simple, repeatable procedure that works for me and is delicious. You can branch out and try anything you want!
Different salt levels work too! The procedure above shows how to make a kimchi with a predictable salt level. Other kimchi processes start with a very high salt level (like 11%) and may proceed through multiple salting stages over many days, rinsing, and salting again. That makes it very hard to predict the salt level in the final product. But some claim it makes a "deeper flavor". My procedure gives you a predictable 3% salt level which some researchers find optimal.
Other things that are good and commonly used in kimchi include daikon radish, green onions (although they can turn tough), ginger, scallions, dried shrimp, etc.
If you seal the kimchi into a jar with a very tight-fitting lid early in the fermentation process, you might find yourself with the joy of fizzy kimchi! The carbon dioxide produced in the fermentation process will pressurize and carbonate pieces of the kimchi, to where they will fizz when you bite them!
I use a jar with a flip-top lid with a silicone seal. (See the picture above.) This allows some gas to escape when the kimchi is under very high pressure. It does usually not allow fizzy kimchi, but allows nice and crisp kimchi.
The taste of your kimchi will probably change several times over its lifetime. Different strains of bacteria live at different temperatures, salt concentrations, and different levels of acid, and as the acid level changes, so will the dominant strain of bacteria. Keep tasting it!
In the U.S., store-bought kimchi can be very expensive! My last batch of kimchi (a 52 oz head of cabbage) that I made cost me $3.79 in cabbage and approximately $0.50 in spices, for a total of $4.29. This is a cost of $0.08 per ounce (dry weight). In my local grocery store, a jar of kimchi costs between $0.46 and $0.63 per ounce! Homemade kimchi is much, much cheaper, and I bought it when Napa cabbage was $1.29 / pound, and not on sale. You could make it even cheaper when it's on sale.
I made one little tiny jar of kimchi and added a whole dried Bhut Jolokia "Ghost Pepper", one of the hottest peppers in the world (over 1 million Scoville units!) It is tiny but angry. It is very dark red and under high pressure. Enough pressure to force the little jar lid to release liquid. I haven't built up the courage to try it yet.
Kimchi is delicious paired with rich foods. One of my favorites is a little bowl of kimchi alongside eggs. It's bright and acidic and refreshing and cuts the fat of the eggs. It is so refreshing with rich foods!

Maybe you've seen some confused statistic that says that there are 10 bacterial cells in the human body for 1 human cell. That's probably wrong, according to modern science. The ratio is probably closer to 1:1. There are probably about as many bacteria in a human body as there are human cells. And these bacteria, mostly in the colon (large intestine), are crucial to your ability to digest food! Bacteria can be really small, though, so the total mass of bacteria in the body is only about 0.2 kg.
Any time you see ground beef on sale, think of my secret weapon: Cabbage Burgers! These are also variously known as "Krautburgers" (although that gives the incorrect impression that there's sauerkraut inside; it's just cooked unfermented cabbage,) or known as "Cabbage Rolls" or "Runza" or "The Best Food You Can Prepare in Advance and Freeze." They're a bun filled with cabbage, onions, and ground beef. They're delicious, nutritious, filling, inexpensive, and they freeze and microwave incredibly well, so you can make a giant batch and have cheap food ready in minutes!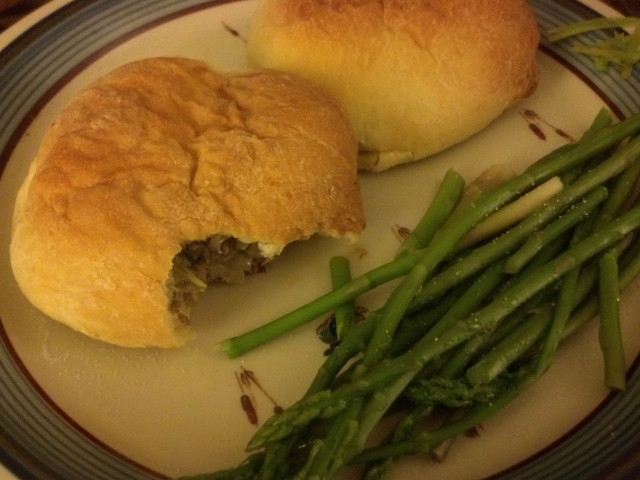 I usually make a gigantic batch of these little delights, using 4 pounds of ground chuck, 2 heads of cabbage, 5-6 onions, 12 cups of flour, 12 egg yolks (which left me 12 egg whites for breakfast for 4 days) and a few other ingredients. It is a huge undertaking, but my last batch produced 70 delicious krautburgers that went into the freezer and should provide dozens of quick, delicious meals! Each krautburger cost, by my estimate, about $0.41, and two of them make a good meal for only about $0.82! I've learned that making a huge batch will last for weeks or months, and is as easy as making a smaller batch.
I made a batch of these for my friend who was having medical issues and froze them in her freezer. (It made 43 cabbage burgers, but it wasn't my best batch. I added kale and arugula and eliminated onions for dietary issues. Also I used some rye flour because of mild food allergies which made the perfect breading non-perfect) She later said "they saved my life." And, honestly, when I'm completely out of energy, warming up and eating these cabbage rolls makes me so happy. They are the best freezer food I know how to make.
They are the perfect freezer food. I know of nothing better to make and freeze. They are the perfect food, and they are delicious. Try these. They are so easy to microwave and reheat. I give them to friends, and my friends were so happy to have them. It's fun (and very efficient) to make a giant batch of them with friends.
(Unless a friend accidentally turns the oven to "self-clean" mode while you are making them and you have to spend several hours figuring out how to unlock the oven solenoid before it frees itself in 12 hours because of the searing heat from self-clean mode. But that's a story for later.)
Add your own flair! (Cheese, ricotta, jalapeños, taco spices, paprika, whatever!)
This recipe is for a single batch but you should always plan on making at least a quadruple batch because they freeze extremely well, and it's just as easy to make a large batch. I almost always make a quadruple batch because 2 heads of cabbage comes out even. A single batch will make about 15 krautburgers.
Notes about the breading: This is a high-performance, stretchy, load-bearing dough. You may be tempted to replace the wheat flour with some other kind of flour (e.g. spelt or rye). This has never gone well in my (and others') experience. At the proportions below, the dough needs to be stretched very thin and still hold together. Please resist the urge to make it with different ingredients until you've had the real thing. If you are going to make it with other types of flour, the dough will have to be much thicker to stay together, and you'll have to make much more of it. As it is, this amount of breading is barely or not enough to cover the filling in the recipe. I almost always have filling left over unless I roll the dough super thin with a rolling pin. If you have filling left over, that's not bad! The extra filling forms into a meatloaf or a cottage pie (topped with mashed potatoes) really nicely, as noted below.
Breading (for a single batch. Make a quadruple batch! Make even more if you're not rolling the breading really thin!)
1 package active dry yeast
1 cup lukewarm milk (110 to 115 degrees)
2 tablespoons sugar
1 teaspoon salt
3 cups all-purpose flour
3 egg yolks
4 tablespoons butter, softened
Sprinkle the yeast into 1/2 cup of the milk. Add the sugar and salt and stir until dissolved (actually it will stay clumpy because of the milk. Just let it sit for a while and it will unclump.) Place the mixture in a warm draft-free place for 5 to 8 minutes or until the mixture has begun to bubble. (It may take longer than that.)
Pour the flour into a large bowl and make a well in the center. Drop in the yeast mixture, egg yolks, remaining 1/2 cup of milk, and butter, and with a large wooden spoon, gradually stir the flour into the other ingredients until a fairly firm dough is formed. Cover the bowl and let rise in a warm place for an hour. (Over a bowl of warm water is good.) Punch down, let rise for another 45 minutes.
Preheat the oven to 375°F (190°C).
Filling (for a single batch. Make a quadruple batch!)
2 finely chopped onions
1/2 head finely chopped cabbage
2 tablespoons vegetable oil
1 pound ground beef, (80% Lean/20% fat preferable)
Garlic or garlic powder to taste
Salt to taste
Pepper to taste
(Optional) Cumin to taste.
(Optional) other spices you like. Paprika is good! Taco seasoning would be really good too!
In a large pot with a lid, heat oil and cook onions with some salt for 5 minutes. Add cabbage, some salt and pepper (or bouillon powder for even more flavor,) and about 1/2" of water, cover pot and steam until cabbage is tender, stirring occasionally. Add small amounts of water if necessary while cooking. A little bit of onion and cabbage juice left in is good!
Lightly brown ground beef with garlic and do not drain. Mix beef with cooked cabbage and onions and season to taste. The filling will be easier to work with and less wet if cooled somewhat before using.
Assembly
Cut dough into manageable sections and roll out on lightly floured surface (or unfloured on a dough sheet.) Roll thin using rolling pin. Cut dough into pieces (whatever size you like, about 4" square is good). Roll out again with a rolling pin for efficient use of your dough! Fill with a couple heaping spoonfuls of filling. Fold corners of dough together, pinch closed (I find 8 to 10 little pinches is good), and turn over with seam down on cookie sheet. Bake in oven for 10-12 minutes or until golden. Cool on rack. Can freeze after cooled. These reheat very nicely in the microwave.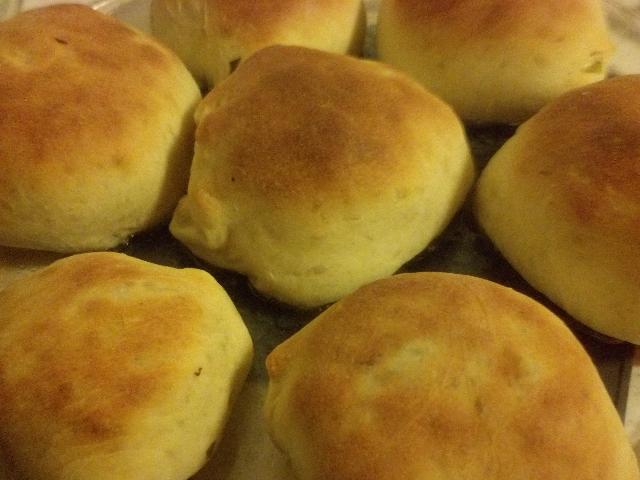 On a Friday during Lent, I had two smallish pieces of tilapia (6.6 ounces) left over from the week before. It wasn't enough for meals, so I decided to stretch it by making fish chowder! I'd never made fish chowder before, but it was simple and so good I made it the next week too!
Fish can be pretty expensive, especially if you're eating on $2.50 a day. The cheapest fish I could find in my grocery store was frozen tilapia at $3.99 / pound. Other fish like frozen cod and salmon were $5 / pound. While eating for $2.50 a day another year, I got a bag of frozen Pacific Whiting for $2.80 / pound and made fish tacos. But, boy, that was the fishiest-tasting fish I ever did eat. I wouldn't try it again. The best fish deal I've found was the whole Surprise Salmon that I found at Albertson's for $1.99 / pound (before they closed, sigh. They had the best sales.)
The fish chowder turns a little bit of fish into a satisfying meal. It has milk and potatoes, which are very inexpensive. I had very inexpensive butter that I bought for $1.99 / pound so I added about 5 tablespoons of butter for richness.
The recipe makes enough for 8 bowls of chowder, for a total cost of $3.28, with each bowl costing about $0.41. I had two bowls with each meal and was quite satisfied! And it's delicious!
Ingredients
6.6 oz tilapia or other fish (or more!), cut into pieces
1/2 medium onion, chopped
3 medium Russet potatoes, (about 1.5 pounds,) cut into cubes
1/4 cup flour
5 tablespoons butter
3 cups water
2 cups milk
1 teaspoon dried dill
2 tablespoons vegetable oil for frying
1 teaspoon salt (or use my secret ingredient, bouillon powder!)
1/2 teaspoon black pepper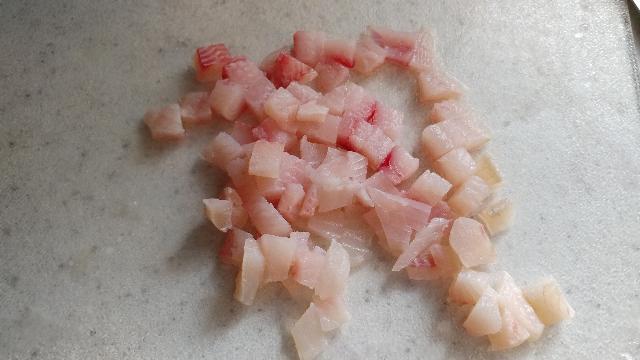 Some chunks of nice tilapia. Tilapia was really good in this!
Directions
In a large pot, heat vegetable oil and fry onions for about 5 minutes.
Add potatoes and cook and stir for 1 minute.
Add flour and cook for 1 minute.
Add water, salt (or bouillon powder), dill, and pepper.
Yeah
Bring to a boil over high heat.
Reduce heat to low, cover and simmer until 25 minutes or until potatoes are tender.
Add fish pieces to pot; cover and simmer 5 minutes or until fish begins to flake when tested with a fork.
Add milk and butter, stirring until heated through. Do not boil.
Fish Chowder Costs
| Item | Cost |
| --- | --- |
| 6.6 oz tilapia at $3.99/lb | $1.65 |
| 1/2 medium onion | $0.30 |
| 1.5 pounds Russet potatoes at $0.40/lb | $0.60 |
| 5 tablespoons butter at $1.99/lb | $0.31 |
| 2 cups milk at $2.39 / gallon | $0.30 |
| Dried dill, 1 teaspoon | $0.10 |
| Vegetable oil | $0.02 |
| Total | $3.28 |
| Total, 1 bowl | $0.41 |
Your grocery store may have a phone app that you can use to get special deals like "digital-only" coupons, rewards for purchases, and random free foods. I've become a big fan of the Safeway app which has saved me a lot of money.
For example, on my last shopping trip, there was a reward in the app that gave me $20 off my order if I spent more than $100. And it gave me free eggs and free cheese.
The app also rewards purchases by giving you "rewards points" that can be redeemed for lower gas prices, free food items, or dollars off your orders. The most efficient rewards I've seen in the app are the occasional $7 off meat purchases for renewing 4 rewards. (4 rewards normally just gives $5 off.) I have used this to indulge and buy some meats that would usually be above my $2.50 / day budget. For example, I bought a pork loin that weighed about 4 pounds for only $0.66, cut it into 3 pieces and froze it, so I can have delicious roasts that each cost only $0.22!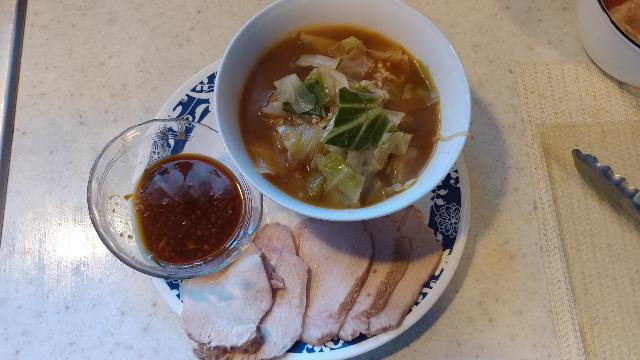 A dinner using that pork loin. The pork loin was cooked for 16 hours at 141°F (60.5 &degC) in my homemade sous vide cooker. For one plate, the pork cost less than $0.11, ramen cost $0.10, cabbage cost less than $0.10, and various spices and my orange-ginger sauce cost about $0.10. So about $0.40 for that whole plate! And it was some of the tenderest meat you will ever encounter!
I'm security-paranoid, so as soon as I downloaded the app, I went into Android's settings and revoked all of its permissions. It still works fine.
So, if I'm security-paranoid, why do I use an app? My rationale is that the grocery store has tracked everything I've purchased everytime I use my customer loyalty card for the last few decades. It has been economically worth it to get weekly sales, though. And I'm happy that the Safeway app works fine with all app permissions revoked.
App tips:
The app may present various offers that increase your rewards just for clicking them. For example, the app often presents items like "earn 3 rewards when you spend $50" (the Safeway app normally gives you 1 reward when you spend $100, so this is 6 times better!) or "double rewards for all purchases in the meat department." So go through the app before you go shopping and add all of these you can!

As a corollary, always search for the terms:
rewards
reward
points
point
free

Update: The Safeway app also seems to offer free unadvertised food options. All you have to do is notice them and click them, and pick them up when you go shopping. I've received free cheese, free artisan bread, free sausage, and other items this way.
As a corollary, search for the term "free" to help find free offers. You will get "buy 1 get 1 free" offers but you will also uncover just outright free items! I figured this out too late but now I get free cheeses and stuff potentially without buying anything on some trips.
Certain grocery chains have very deep sales on Friday-Saturday-Sunday only. These won't show up in the app until they day they're available, so don't forget to check on the day you go shopping and maybe plan to shop on weekends that have these deep discounts.
In the app, you usually have to tap the item you want to buy before you get the discount. It costs you nothing to tap if you don't buy the item. This means I've reduced my error rate by tapping every item I might conceivably buy. Tap everything you might conceivably buy.
From watching grocery store sales over the past years, I knew that around St. Patrick's Day, a few things would be on deep sale: cabbage, corned beef, and potatoes. Around this time, they're the cheapest they'll be all year, so I got some of each.
Cabbage was on sale at the remarkably low price of $0.28 / pound, so I picked out a beautiful huge head of cabbage that weighed 5 pounds!

Can you identify the crust, mantle and core?
That's a lot of cabbage. I cooked some with ramen and pork loin, (see the picture above!) but still had more than 4 pounds left over. How do you preserve that much cabbage? I had considered making a huge batch of Colcannon which is mashed potatoes and cabbage, but then remembered a simple dish that's mostly cabbage--okonomiyaki!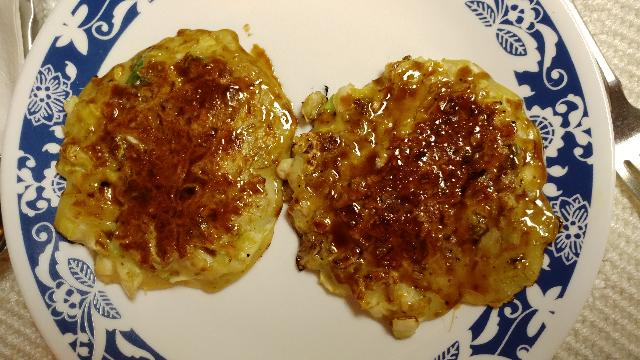 Finished okonomiyaki dressed with sweet soy sauce
Okonomiyaki is a Japanese dish that's basically a savory, not sweet, pancake of shredded cabbage held together by flour and eggs, (and whatever else you want) that's cooked on a grill. The name "okonomiyaki" basically translates to the English phrase "as you like it," which means that you are free to make okonomiyaki any way that you please! Some recipes add meat, or fish, or shrimp, various spices or whatever's on hand.
The grilled okonomiyaki are then usually topped with a sweet and savory sauce (apparently okonomiyaki sauces are readily available in all Japanese market, but my huge local Asian Market didn't have any when I was there a few months earlier.) Instead, I used a big bottle of sweet soy sauce that I had, which is syrupy and good. You can also use a sweet chili sauce, teriyaki sauce, a mix of ketchup and Worcestershire sauce (which supposedly tastes a lot like okonomiyaki sauce,) some soy sauce cooked with sugar, sriracha, or anything else you like! They're often drizzled with mayonnaise and dried bonito fish flakes before serving.
And, since okonomiyaki freeze and microwave so well, I decided to make a giant batch of them and freeze them to preserve cabbage for many meals!
Often, okonomiyaki are quite big--the size of a plate--but I decided to make them smaller (about 4 inches (10 cm) diameter) so I would be more likely to grab one and supplement a meal.
These are a great, economical replacement for pre-made veggie burgers! And you can spice them the way you like. Curry powder was really good in some of them!
I made a huge batch with over 4 pounds of cabbage. This made 37 okonomiyaki! I froze most of these. They microwave really well! That's a lot of side-dishes or meals!
The amazing thing is that since I had free flour (I got a giant bag of good flour as a Christmas present) and some free eggs (from using the app,) this giant batch cost me about $2.00 to make! Each patty cost less than $0.06! That's 6 cents! Wow!
Ingredients (for a huge batch)
1 head of cabbage
(optional) 3 potatoes, grated
4 cups water
4 tbsp chicken bouillon powder
4 1/2 cups flour
1/2 cup milk
6 eggs
(Optional) 6 cloves garlic
(Optional but recommended) 3 ounces ginger, shredded
(Optional) sauce for topping (see above for options)
(Optional) mayonnaise
vegetable oil for frying
Procedure
Cut the cabbage into 7 mm squares

(optional) Grate the potato (or process it coarsely in a food processor)
In a very large bowl, combine the water and chicken bouillon powder.
Add the cabbage, (optional) grated potato, flour, milk, and eggs and mix well.

(Optional) add other ingredients like canned tuna, ginger, and garlic.
Season to taste.
Heat an electric griddle or frying pan to 375°F (190°C)
Heat oil in frying pan.
Ladle batter into frying pan.

Cook 6 minutes on one side.
Flip. Cook 6 minutes on other side.

Remove from pan and brush sauce on the hot side.
(Optional) dress with mayonnaise.
I live at an elevation of about 5500 feet above sea level. For me, many recipes have to be modified because the air pressure is about 18% lower than at sea level. Instead of water boiling at the sea-level temperature of about 212°F (100°C), it boils at about 202.2°F (94.5°C)!
That lower boiling point is significant when boiling almost anything from eggs to pasta to split peas to beans. Sometimes cooking times are doubled or worse. In the past, I've soaked dried beans overnight and boiled them all day and they are still hard!
When water boils, the water molecules that are at a higher temperature than the boiling point tend to escape from the surface of the water as steam. This means that the water can't get significantly hotter than that boiling point.
(In more technical terms, the boiling point can be calculated as when the saturation vapor pressure is equal to the ambient air pressure.)
A pressure cooker is a vessel that contains the water and the steam (vapor) under pressure. This allows the water to reach a significantly hotter temperature than in an open pot. How much hotter? Well, my programming language Frink recently added a high-accuracy library for the properties of water and it can easily calculate boiling points at different atmospheric pressures and inside a pressure cooker.
One of the trickier parts of this process is to find your actual local atmospheric pressure. When you look on most weather sites, they give you a corrected atmospheric pressure which is what your local atmospheric pressure would be at sea level. For example, around my altitude, the true atmospheric pressure is about 0.822 atmospheres, while the weather sites list the corrected pressure as being about 1.000 atmospheres.
You can find the boiling point temperature at local atmospheric pressure and inside a pressure cooker using the following:
use water.frink
// My local pressure
p = 0.822 atmosphere
t1 = Water.boilingPoint[p]
println["Boiling point is normally " + (t1 -> F) + " F (" + (t1->C) + " C)"]

// Pressure in a pressure cooker at 15 psi over ambient pressure
t2 = Water.boilingPoint[p + 15 psi]
println["Boiling point in pressure cooker is " + (t2 -> F) + " F (" + (t2->C) + " C)"]

Boiling point is normally 202.23 F (94.57 C)
Boiling point in pressure cooker is 244.49 F (118.05 C)
Note that the boiling point temperature in a pressure cooker is significantly higher than at ambient pressure!
There are a few ways to find your "true" local atmospheric pressure:
In Frink's StandardAtmosphere.frink file is a function, StandardAtmosphere.stationPressure which lets you turn a "corrected" sea-level pressure into a local pressure at a specified altitude:

use StandardAtmosphere.frink
seaLevelPressure = 1013 millibars
station = StandardAtmosphere.stationPressure[5500 feet, seaLevelPressure]
println["True station pressure is " + format[station, "millibars", 2]]

True station pressure is 827.26 millibars

Using Frink on Android, obtain the pressure from your phone's pressure sensor if it has one:

ss = getSensorService[staticJava["android.hardware.Sensor", "TYPE_PRESSURE"]]
p = ss.waitForValues[]
println[p@0 + " millibars"]

828.9995 millibars
The richest and cheapest soup I know how to make is split pea soup.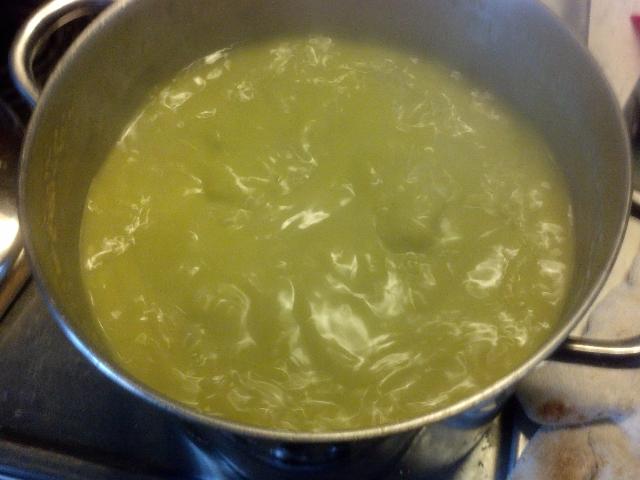 Here is the basic ingredient list for a gigantic pot of split pea soup. (The recipe actually comes from the back of a package of Hurst's HamPeas.) I didn't use their peas, (sorry, guys) but they come with a little packet of artificial ham flavor. You will need a huge stockpot.
12 quarts water
4 medium onions, shredded
4 medium carrots, shredded
5 pounds dry split peas
1/2 lb butter
1 teaspoon baking soda (optional)
Salt and Pepper to taste
Bring the water to a boil, and add the rest of the ingredients, cover, and boil until the peas are broken down. (Your boiling time will be different than mine as I live at an altitude of over 5600 feet, so water boils at the lower temperature of 204°F (95°C), and boiling dry beans and peas and pasta takes significantly longer.) You will need to boil it for at least an hour. For me, it takes at least an hour and a half, and usually 2 hours. Stir constantly. See below.
Tip and Warning 1: Based on a suggestion from the people at Cook's Illustrated, baking soda can help reduce cooking times for beans and lentils by helping to break down the skins. I added the baking soda early in the process, and it immediately started to make the soup foam, which progressively got worse until it boiled over and I had to lift it off the heat. Ugh. I too-late tried the home-beer-brewer's trick of spraying the foam with a sprayer bottle of water, but the foam was too active and I was too late. Be prepared for boilover. Luckily, after the protein foam boils off or is skimmed off, you're okay for the rest of the boil.
Tip and Warning 2: Keep stirring! And keep boiling! While the recipe on the HamPeas bag tells you to reduce the heat and simmer after 30 minutes, I have found that unless you keep up the convection of an actively rolling boil, your soup tends to stick to the bottom of the pan and burn. I burned a giant batch of this soup last year while doing this experiment. That was not fun. You need to stir it constantly for up to 2 hours. (I'll note that adding some peanut butter to the soup reduced the burnt flavor.)
Thanks for reading this. I hope I helped someone find a new food that they love, and can share with others. I will be adding to this page as I discover new inexpensive, amazing recipes. If you have a favorite inexpensive recipe that you'd like to share, please email me.
---
Alan Eliasen, eliasen@mindspring.com
Twitter: @aeliasen
Back to Alan Eliasen's website
Back to Alan Eliasen's technical blog